RideSafer Delight Gray Large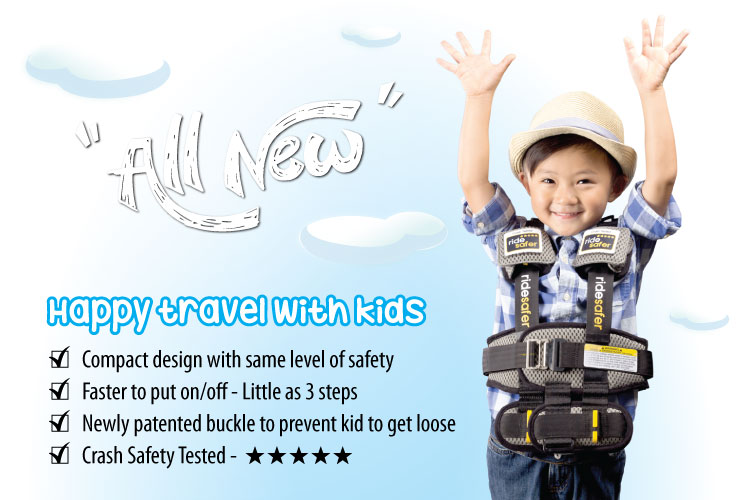 SIZE
WEIGHT
HEIGHT
Large
(5 to 8 year old)
50 - 80 lbs
45 - 57 inches
22.7 - 36.3 Kg
114 - 145 Cm
Key Features

- Improved safety & design over currently available products
- Vehicle belt positioned in front of child
- Use in any rear seating position lap-only seat belt or lap & shoulder belt.
- Portable, Compact and Easy to use.
- Reflective trim for low light conditions.
- A child restraint system that older children want to use.

Innovative Design Elements

- Reduced head and knee excursion
- Reposition lap belt below abdomen, protecting organs
- Reposition shoulder belt away from child's neck
- Energy absorbing design
- Deformable multi-layered clip for Tether System & Shoulder Belt Positioner
- Foam, energy absorbing lamination
RideSafer Delight With Tether is tested and certified to the dynamic test requirements specified in FMVSS 213. RideSafer Delight With Tether is also designed to and complies with all of the other applicable requirements of FMVSS 213 for a harness including product labeling, webbing requirements and instruction manual.
RideSafer Delight With Tether has two different use modes, one use mode as a harness/vest when secured with a lap belt and top tether and a second use mode as a vehicle belt positioner when used with a vehicle lap and shoulder belt.
RideSafer Delight With Tetherprovided in a small and large size for children 30 to 60 lbs. and 50 to 80 lbs. respectively. The harness use mode, used with the vehicle lap only belt and top tether, for both size vests is limited to use with children weighing 60 lbs. or less.
Safety always matters!
Showing test results with a dummy which was used with RideSafer®. It proves RideSafer® meets or exceeds all Federal standards (FMVSS213)
RideSafer®2
Tested to FMVSS 213
Certified to FMVSS 213
Vehicle Lap-Shoulder belt Use mode
Vehicle Lap-belt & Tether Use mode
Injury Criteria
FMVSS 213 requirement
3 YO III dummy
6 YO III dummy
3 YO III dummy
6 YO III dummy
Head excursion
32 inch max
16.6
17
19
20.5
Knee target excursion
36 inch max
19.4
19.7
20.6
18.4
Head injury criterion
1000 max
531
524
691
767
Chest Acceleration
0.13 lbs max
0.1
0.09
0.11
0.1

Certifications & Awards